Jigging and Popping in Cape Cod; A style that has quietly become an addiction for a select group of adventurous anglers, and a fishery that has quickly become a mecca for those who pursue one of the baddest fish that swims; the mighty bluefin tuna. Modern jigging and popping, or casting, is not your garden-variety way of enjoying the popular sport of fishing, but is quickly gaining a following and silencing most non-believers with its success and obvious enjoyment of the participants. Many international anglers travel to the area specifically to target bluefin using these methods, showing it's broad appeal to anglers from all over the world. Boarding a 24-30 foot center console vessel early in the morning, with nothing but spinning rods and light tackle jigging set-ups, then rapidly covering ground for 100-200 pound bluefin tuna is the basic premise,but this approach to tangling with large pelagic fish is anything but basic or boring....
What used to be considered ridiculous and futile using "tiny" rods and reels, has become the norm in and around the waters off NH, MA, and the entire southern New England coastline. Traditionally targeted by "heavy" tackle consisting of conventional(overhead) 50 through 130 pound class rods and reels, using trolling, live, and dead baiting, the Atlantic Bluefin provides nearshore opportunities every late spring through very late fall for the intrepid angler. This fish can reach sizes in excess of 120" and 1500 pounds, but the school and medium-size class fish of 35-70" and 50-150 pounds are the predominant quarry for the recreational fleet. It is these bluefin, often located just 2-40 miles off the shoreline that the "new" selection of jigging and popping gear has made available a very exciting and unique method to target and successfully land these apex predators. In 2011, using strictly artificial offerings, my clients brought 135 tuna to the boat in 95 trips, 7 of which were over the 73" and 200 pound mark including 2 over 300 pounds, during a season many considered substandard. By moving the boat and creating the best opportunity on active fish, the success rate of this style has proven to rival if not outright better the more traditional means employed by the majority of the fleet. The gear has been rapidly improving over the past 5 years, and modern spinners and tiny overhead reels now possess the drag and capacity to regularly hook and land bluefin of considerable size; more and more documented catches of fish exceeding 300 pounds have been registered in the past 2 seasons up here, begging the question of just how big a tuna this gear can land?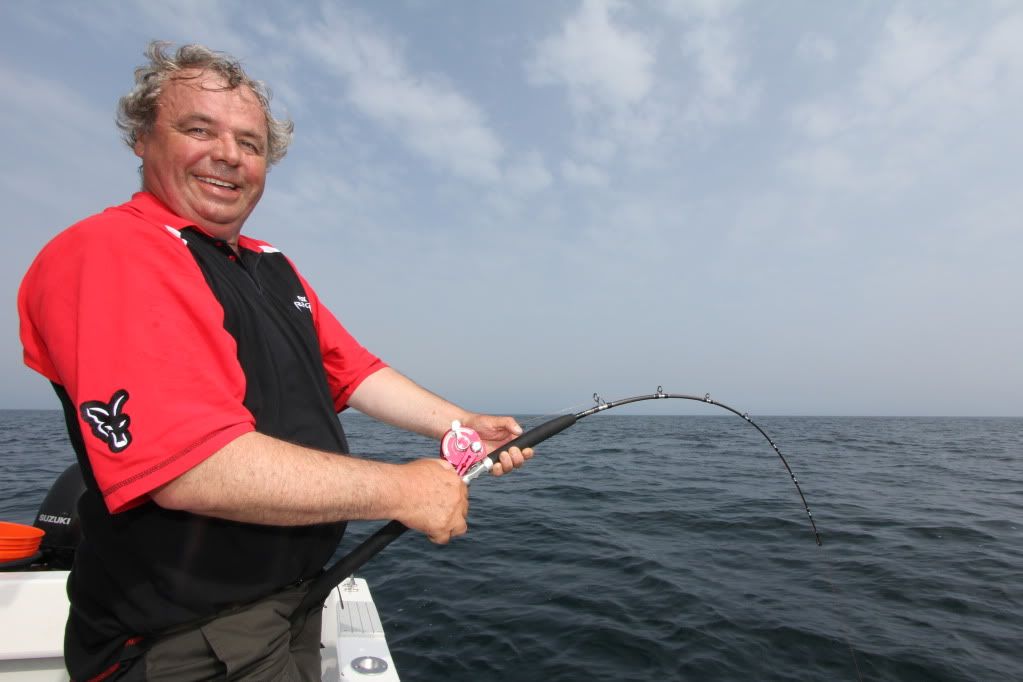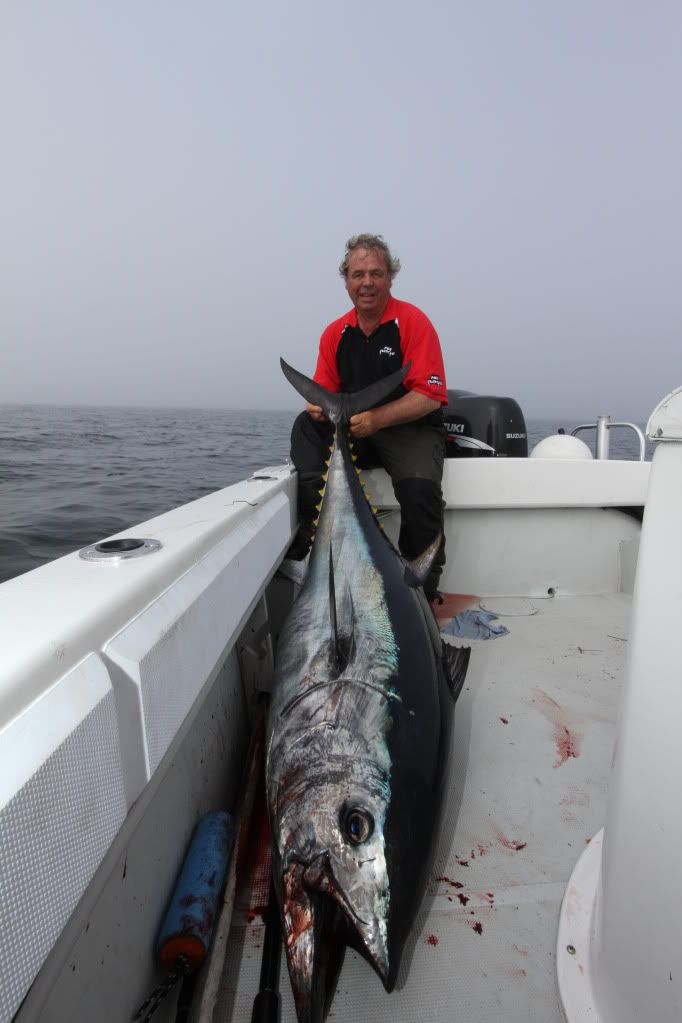 I run a 29 foot Dusky center console, trailering from Hampton, NH all the way to Newport, RI and many ports in between, but predominantly Green Harbor, MA. This allows me to access the fish from the closest port to where the fish are to maximize fishing time and minimizing transit times. Over the past 5 seasons I have dropped all my other fisheries focusing solely on bluefin and running between 90 and 110 trips per season, specializing in using light tackle with artificial lures and jigs. I do not troll or use bait, which requires moving around quite a bit, locating signs of actively feeding fish earning this style the nickname "run-and-gun". This is a much different approach than what has been done in the past, getting the angler right into the action, and actively teasing a bluefin into striking something that is metal, plastic, or wood. This particularly appeals to the DIY and more experienced angler, which has led to some amazing numbers being put up on some trips, and throughout the season. This method of targeting bluefin can often provide multiple chances at many different points in the course of one trip, and hooking 5-10 fish or more is not unrealistic when the bite is on! Multiple hookups frequently happen, and it is not all that rare to have 3 or 4 going at once. Due to the fact the angler has typically hooked the fish very near the boat, the reels possess large capacities of braided line, and the boat is set up to be easily maneuverable, it becomes almost impossible for the fish to get too far away or at a poor angle for fighting. I have taken great pains to rig my Dusky charter boat to maximize the space available for both jigging and popping, with a factory raised forward deck, custom 3 tiered bow rail, and custom T-top that has no overhang past the helm. The T-top is also and cut short on the back end as well to mitigate any obstructions to the view or the back-cast, and has 16 rod holders up top to keep the gear off the deck. This style of hunting bluefin rather than blindly fishing for them is a great way to avoid the boredom that often accompanies other methods of fishing, especially trolling. By keeping active and working the lures or jigs, the angler gets to feel every bit of the take, and the ensuing battle....not being handed a rod with a fish already attached, and more importantly comfort while fighting the fish, instead of the gear.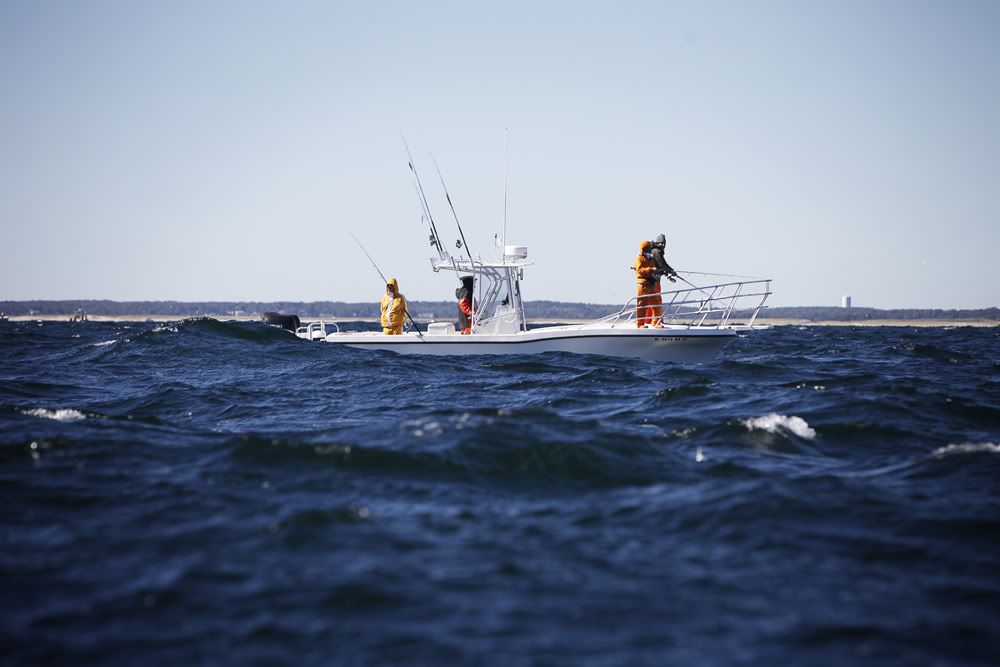 The fish typically show up sometime in mid to late May, with the larger models making a strong showing early, and will often really light up as they come off their winter grounds and start to gorge on the sand eels, herring, and mackerel that are present in huge numbers. Whales, dolphin, and legions of gannets, gulls,petrels, and shearwaters provide clues that tuna are often lurking. Sometimes the bite is subtle in the lower water column only showing fish marked on the machine, but often it is a wide open feed that erupts, providing a world class opportunity to the lucky anglers on scene. I begin my search each season sometime in mid may, and usually find the fish a few days to a week before we can get them to bite. As they arrive, they usually are in smaller pods, and will be seen near the surface moving slowly and methodically. We call these fish "runners" and are extremely frustrating to target as they will usually not even look at whatever is offered. After they come in and settle down, they begin to get into a comfort zone, and start feeding, often like a light switch was turned on...then the fun begins. They are very aggressive early on, and with an abundance of larger baits present, will readily take large surface lures, providing the angler a bird's-eye view of his offering getting destroyed by a lit-up bluefin.
The topwater action is usually very good through the end of July, when sometimes the water warms and the fish retreat to cooler depths. By mid to late August, the locally designed and made subsurface plastics like RonZ and metal jigs like Pt. Jude Deep Force have become the most effective way to target the fish. High surface temps can make the fish tough to locate, they usually stay at depth, sometimes sulking right on the bottom refusing to come anywhere near the surface. The days can be mill-pond still, and the heat and sun are extremely oppressive to both angler and quarry. By dropping down to the fish, a reaction strike can often be triggered on lazy fish. When fish are located in abundance, they are often feeding on sand eels near the bottom, and using metal jigs and soft plastics worked at or near the bottom, great days can often be had while the rest of the fleet struggles. Trolling on these type days is often pointless, and with the numerous challenges presented with live or dead bait fishing, most acutely the gin-clear water and pesky dogfish, the only way to get a bite can be to get to where the fish are, which is deep. By using a good bottom machine, you can dial in the depth the fish are at, and even watch the fish interact with your jigs tight on the screen. I can often stay right over the fish by back-trolling, or using the engines in and out of forward or reverse to keep the lines vertical and in the strike-zone. Bluefin will often hammer anything that triggers their predatory response, not giving them time to check it out before committing.
The bite stays active through late November, and the jig action remains good for the duration. Once autumn rolls around and the fish start to feed with urgency for the fall migration, it is almost always a lights-out bite, but the weather can often keep an open boat at the dock due to strong prevailing winds. However there are many days that can be taken advantage of for those willing to plan last minute, perfect for the anyone within a reasonable drive and the willingness to not quit or give up before the fish do. Typically my last trip is at the end of November each year, as the fish disappear in any sizeable numbers once the water cools past 48 degrees or so. As of this week, there are various confirmed reports from the commercial scallop fleet that there are loads of bluefin all over the 40-50 fathom line, just bunched up and cruising. It is only a matter of a few tides, no more than half a moon phase before they begin heading west in decent schools. The first bluefin schools will be feeding by the third week of May, possibly sooner, and I plan on being there to greet them when they do....hoping to answer that question of just how big a tuna can be tamed.
To book a charter with Capt. Dom of Coastal Charters Sportfishing aboard his Dusky 256FC please visit http://www.coastalcharterssportfishing.com/